Heat Resistance 40KHZ 20W PZT4 Low Power Ultrasonic Welding Vibration Transducer For Lace Sewing
Product Description
Heat Resistance 40KHZ 20W PZT4 Low Power Ultrasonic Welding Vibration Transducer For Lace Sewing

Ultrasonic Welding Transducer It is usually used for plastic welding. It completely replaces the traditional industry of bonding with glue. In the ultrasonic welding process, there are no bolts, nails, snaps, welding materials or adhesives combined. It is faster than traditional adhesives or glues, and the drying time is very fast. The welding process can be easily automated and can be easily customized to suit all types of specific specifications.
The ultrasonic welding transducer converts the electron energy into mechanical energy, and then transmits the energy to the plastic bow and arrow only contact surface by the welding head (HORN), which causes the intense friction and heat generation between the molecules and the molecules, prompting the product to melt and combine instantly. Processing speed is fast, clean, beautiful and economical.
Our customers' products: different shapes and different requirements, using aluminum alloy materials imported from the United States, beautiful in appearance, durable, and well received by customers. In addition to the production of plastic welding machines and welding heads (HORN), the company also provides ultrasonic molds of various brands. The molds designed by our company can be used on ultrasonic machines of various brands. It is better than the molds provided by the original products. The company has a large number of advanced tools. Technical development and design engineers, sales workers
According to different designs, the main forms of ultrasonic transducers are:
1. Column type 2. Inverted horn type 3 Steel back cover type 4. Intermediate aluminum sheet type
Mainly applicable to ultrasonic plastic welding machine, ultrasonic plastic welding, ultrasonic metal welding machine, Ultrasonic cleaning machine, ultrasonic sonochemical equipment, etc.

Transducer: The "heart" of ultrasound is the basis of ultrasound generation. It converts electrical energy into mechanical energy (ultrasound). The most mature and reliable device is the piezoelectric effect that realizes the mutual conversion of electrical energy and sound energy.
Amplifier: shaped energy components. An important part of the ultrasonic vibration system, its role in the vibration system is to amplify the displacement or velocity of the particle of the mechanical vibration, and concentrate the ultrasonic energy on a smaller area.
Welding range: toy industry, stationery industry, home appliance industry, electronics industry, food industry, communications industry, transportation industry, aerospace industry, etc.
Advantage

1.Small machinery loss,
2.High efficiency electricity
3.Sound transfer,
4.Big swing and less heat.
5.Good construction
6.Easy to installation
7.High reliablity
 
The applications of ultrasonic welding are extensive and are found in many industries including electrical and computer,automotive and aerospace, medical and packaging. Whether two items can be ultrasonically welded is determined by their thickness. If they are too thick ,this process will not join them. This is the main obstacle in the welding of metals. However, wires,microcircuit connections,sheet metal,foils,ribbons and meshes are often joined using ultrasonic welding. Ultrasonic welding is a very popular technique for bonding thermoplastics. It is fast and easily automated with weld times often below one second and there is no ventilation system required to remove heat or exhaust.
 
(external sizes)
(electeomachanical characteristic)
Specification
Connect Screw
Ceramic diameter(mm)
Quantity of Ceramics(pcs)
Resonance Frequency(kHz)
Resistance
Yellow Ceramic
Black Ceramic
Input Power
Max Displacement(um)
ARS-6015-4C-Si
M16*1.0
60
4
15
15
9500-10000
12000-12500
2200
11
ARS-6015-4C-Tr
M16*1.0
60
8
15
15
19500-20000
 
4200
11
ARS-6015-4C-Qu
M16*1.0
38
12
15
15
22500-23000
27500-28000
3200
11
ARS-6015-6C-Si
M16*1.0
60
6
15
15
18500-20500
 
2600
11
ARS-5020-4C-Si
Imperial 3/8
50
4
20
15
11500-12000
13500-14000
1500
8
ARS-5020-6C-Si
Imperial 3/8
50
6
20
15
19000-21000
 
2000
8
ARS-5020-4C-Tr
M16*1.0
50
8
20
15
23000-24000
 
3200
8
ARS-5020-4C-Tr
M16*1.0
38
8
20
15
 
17500-18000
3200
8
ARS-3828-4C-Si
Imperial 3/8
38
4
28
15
8000-8500
 
1000
5
ARS-3035-4C-Si
M8.1.25
30
4
35
15
5200-5600
 
800
4
ARS-3040-4C-Si
M10*1.5
30
4
40
15
5200-5600
 
800
2
28khz 600W Ultrasonic Transducer  For Ultrasonic Cutting / Sealing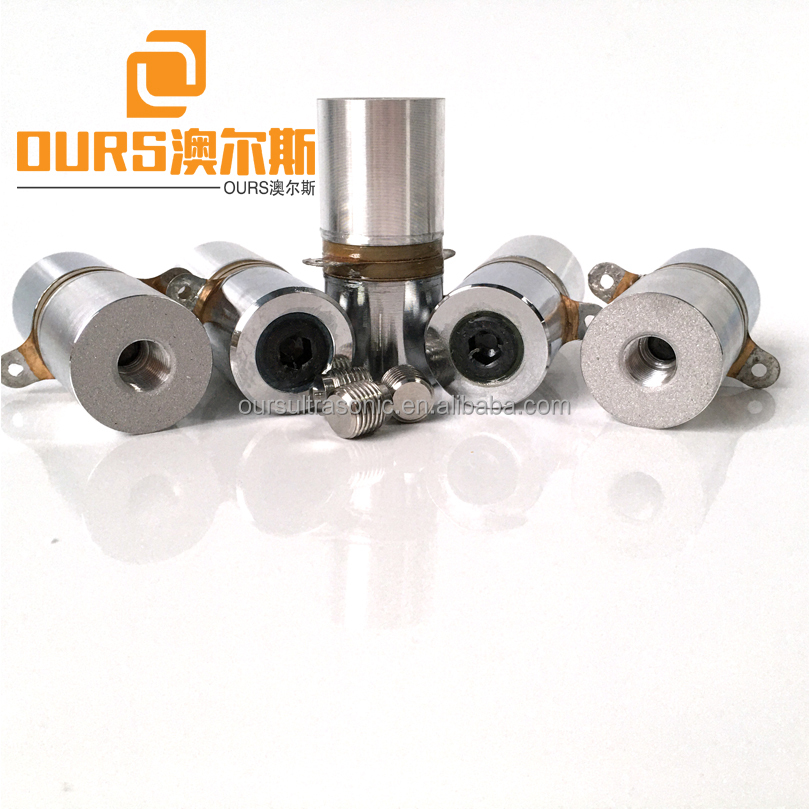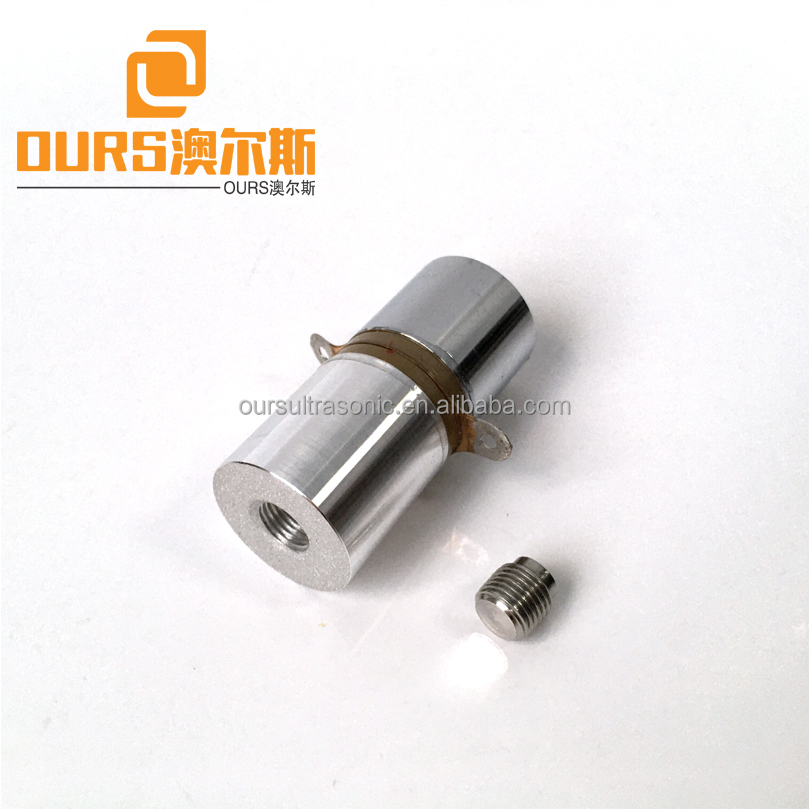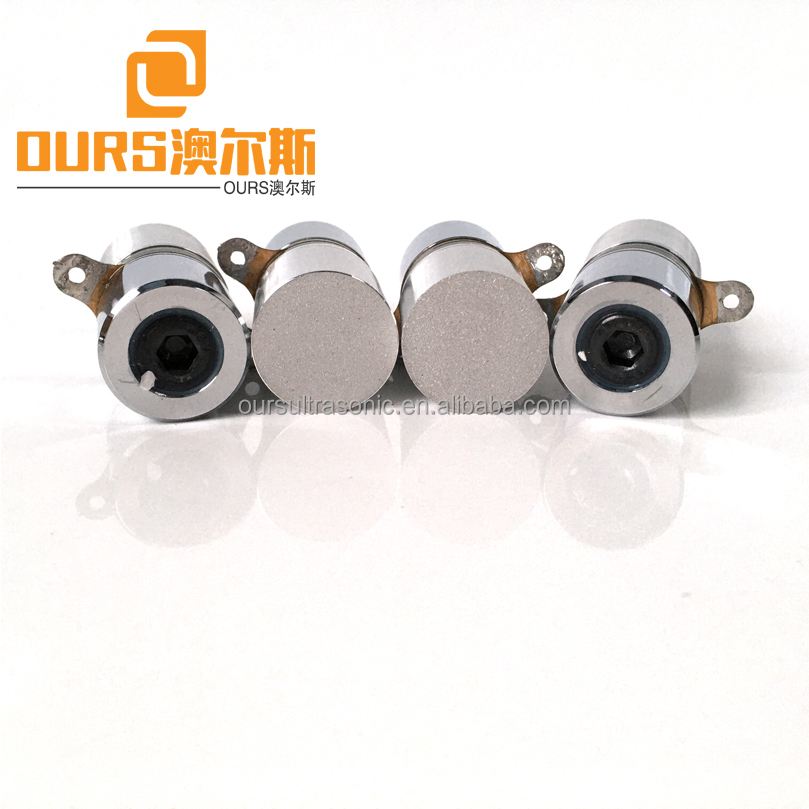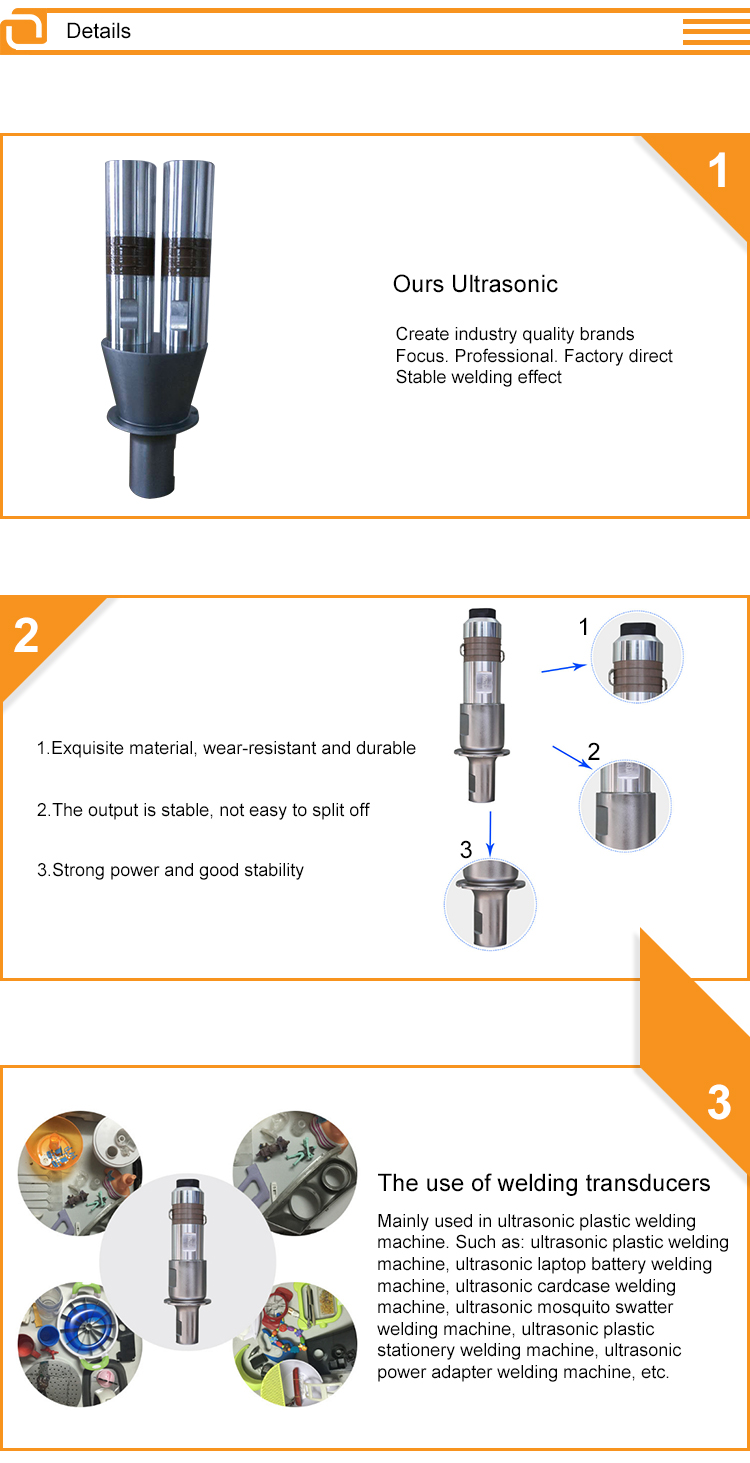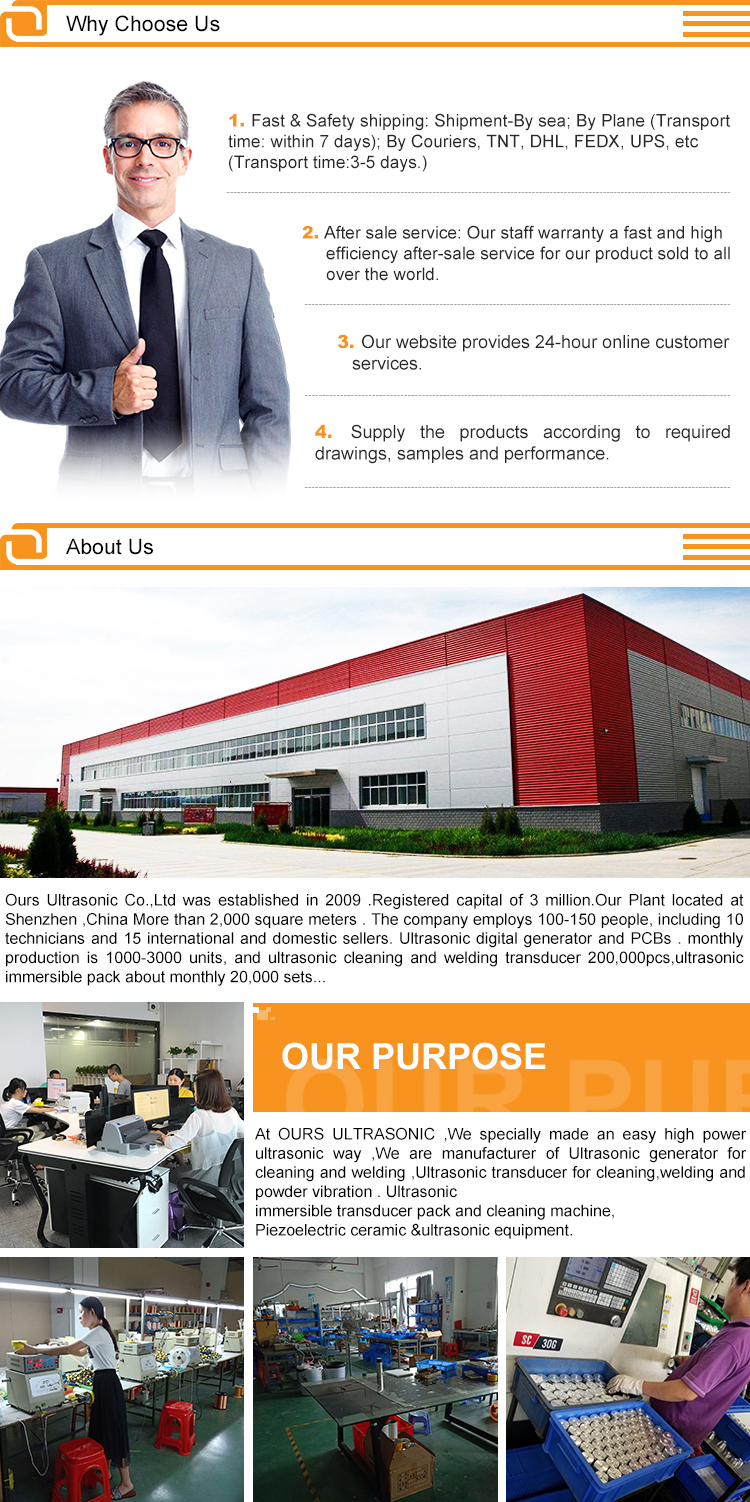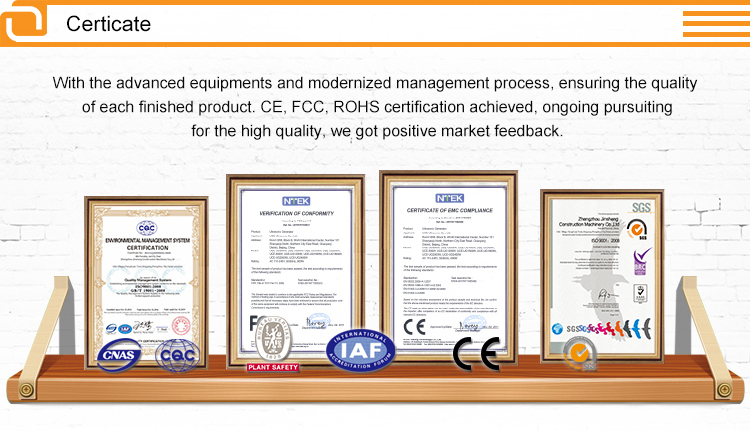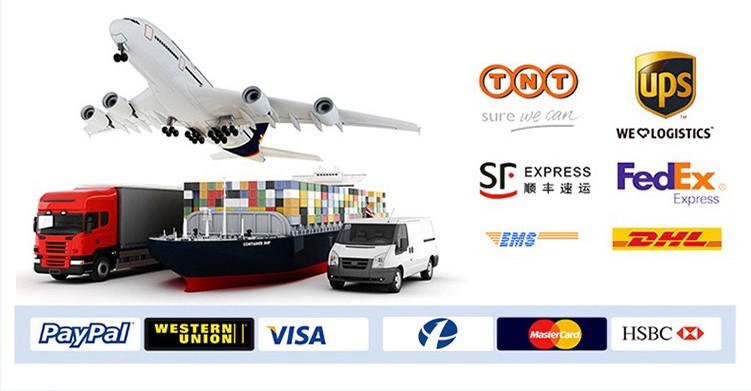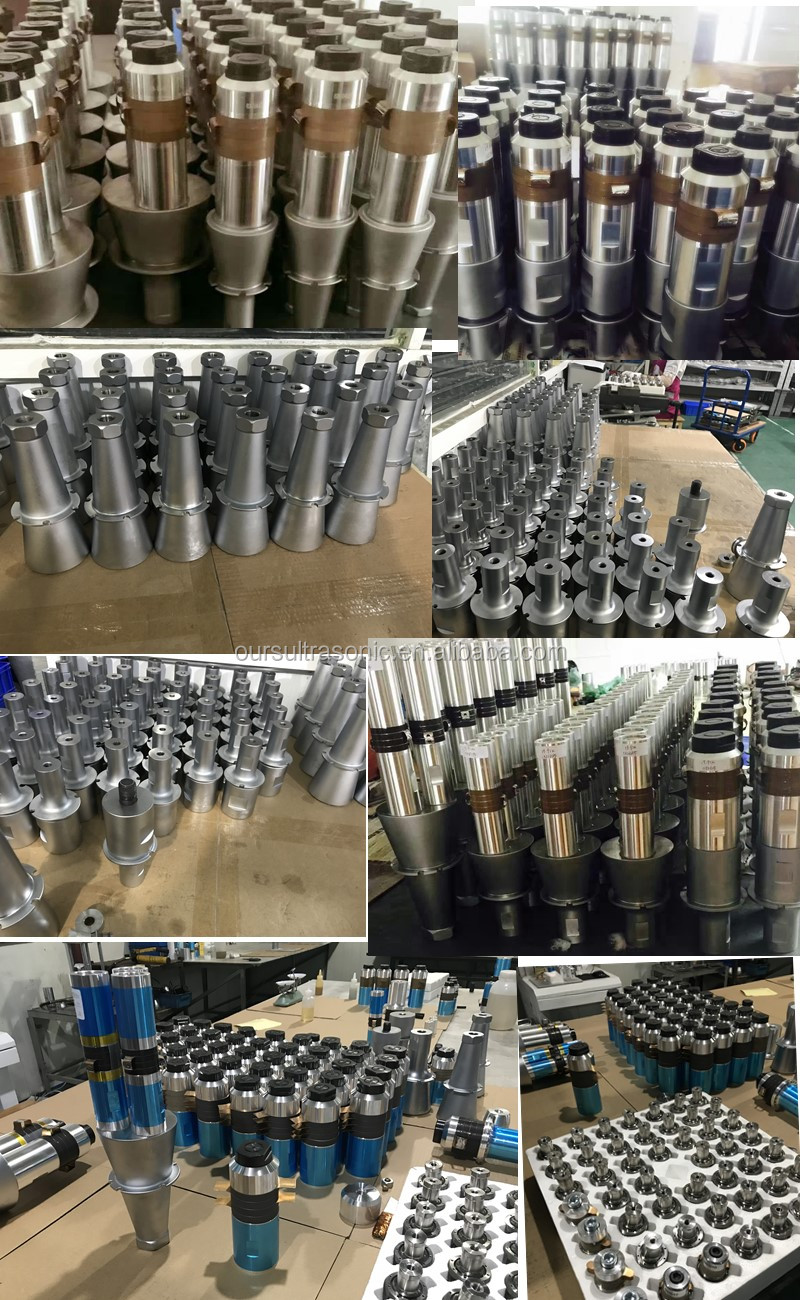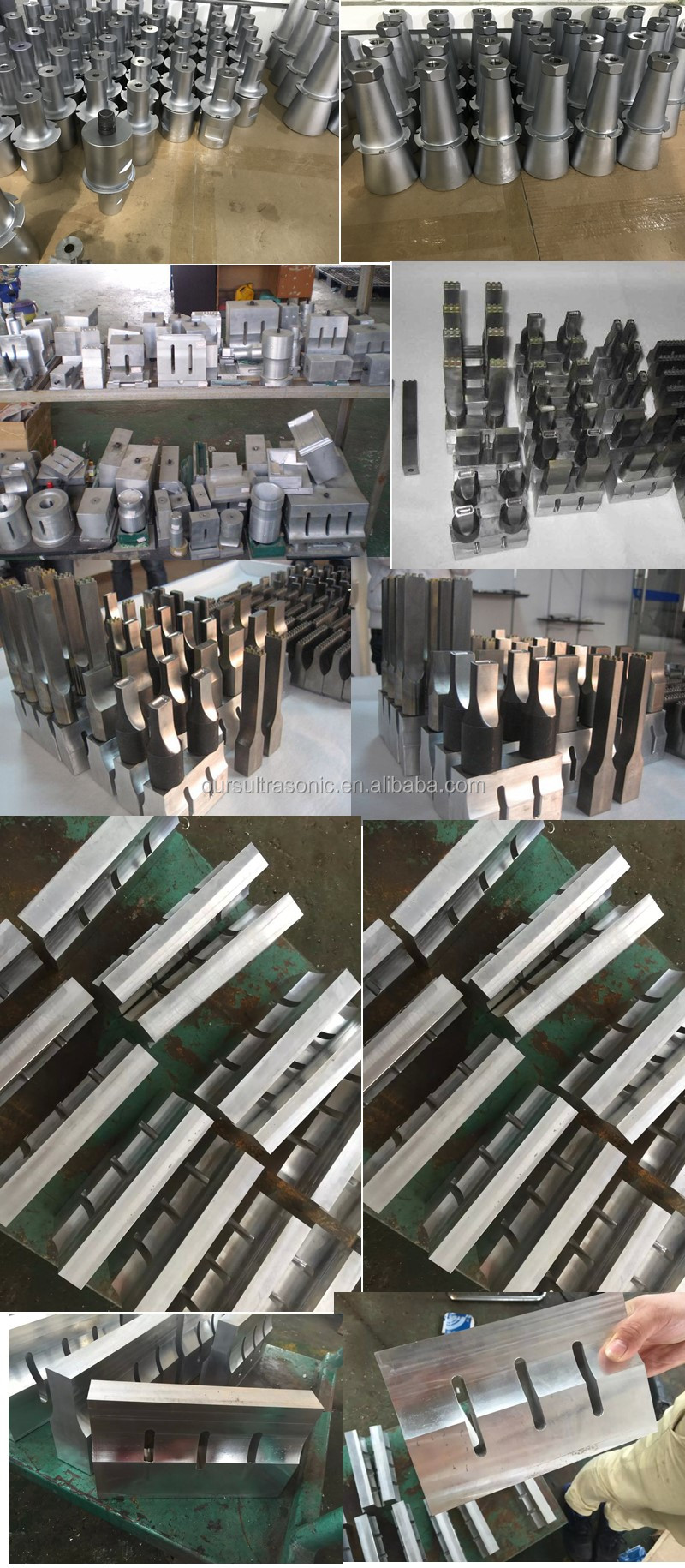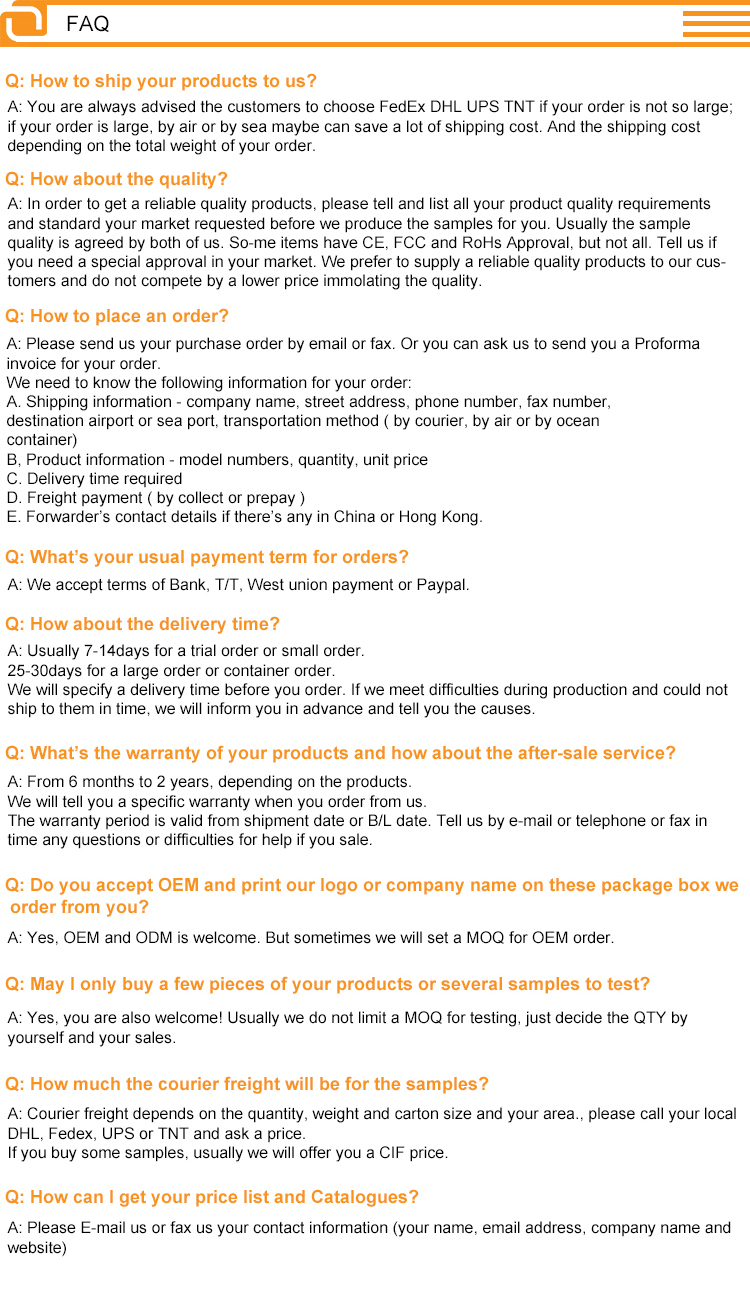 Heat Resistance 40KHZ 20W PZT4 Low Power Ultrasonic Welding Vibration Transducer For Lace Sewing
Contact us if you need more details on Lace Sewing Ultrasonic Welding Vibration Transducer. We are ready to answer your questions on packaging, logistics, certification or any
Other
aspects about 20w Ultrasonic Welding Vibration Transducer、40khz Ultrasonic Welding Vibration Transducer. If these products fail to match your need, please contact us and we would like to provide relevant information.
Product Categories : Ultrasonic Welding Transducer